Last Thursday night I finally managed to catch Pierre Roelofs dessert evening at Cafe Rosamond in Fitzroy.
The
original
plan was to have a nice chilled cheap-ish pub dinner at The Napier (their smoked kangaroo salad = Taste Sensation) and then head to a bar for one or two. I was trying to be both budget and diet conscious...needless to say it had all gone to pot by the end of the night. Totally worth it though.
For some reason I suggested dessert after our meal, then my friend suggested we see if we could get a sitting at Rosamond...we did, and it was all over.
Before we got a table there, we did pop into Cavalleros on Smith St for a digestif and this awesome pic:
Barfly
The Thursday dessert night is a brilliant concept. For me, it's what Melbourne dining is all about, and more-so what Northside dining is all about.
Rosamond is a great little cafe, they consistently do good coffee and serve up hearty brunches with a menu that has enough brunch staples and yet enough variety on there to keep you going back. It's chilled and cool, pretty hipster but not in a contrived way. So, it's the perfect place for a night like this.
I quickly realised that I'd had the completely wrong impression about the night - I thought it might be a few bits and pieces, maybe I'd have a bit of pastry, very informal, job done. Well, I was right about the informal part but completely wrong about everything else. What followed when we were seated was four courses (four courses!) of exquisitely crafted and very fancy looking desserts.
It seems to me that Pierre is using this night as his opportunity to stretch his legs and get creative with the flavours, textures, colours and shapes that he uses. There were purees, jellied cubes, puffed corn, crushed ice, and, naturally, for the last course, chocolate served in myriad ways. It was a great dining experience, relaxed yet special, un-pretentious, in short everything I love about dining out in Melbourne.
Ate:
Argh! I knew this one would be a challenge to describe. The food changes every week, so you do have to just rock up and see what you get. There is always a Testtube as a first course, which is a version of a popular dessert in a testtube (see pic below). Ours was an Eton Mess and it was phenomenal.
The other three courses are really difficult to describe! One was quite fruity, one was extremely fresh and exotic, and the last was chocolate based.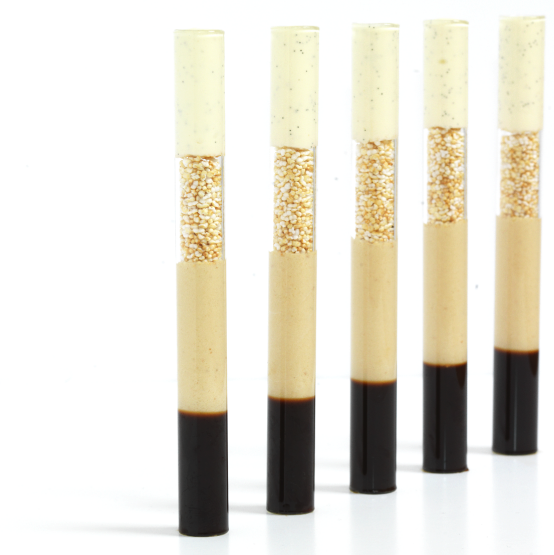 Spent:
I'll admit, it's not cheap. $55 a head - so about twice what we paid for dinner. But it's definitely a special occasion event, and well worth the price, particularly if you have a sweet tooth!
http://www.pierreroelofs.com/dessert-evenings/